Mother's Day Gift Ideas: Whey Protein is a Suitable Gift?
Do you have difficulty choosing suitable gifts for Mother's Day? If you are thinking that gifting whey protein is inappropriate, you really haven't considered the benefits for hard working mothers. There is much to be said for a thoughtful gift that promotes health, nutrition and energy while working out.
The only problem you have is explaining to your mom (who may or may not have ever heard of whey protein) why yours is quite possibly the most considerate Mother's Day gift of all time. If successful, you will cement your place as favorite child for eternity – the spoils of which will natural transfer to your own children.
Health Benefits
Whey protein contains all nine essential amino acids. Remember all those times your mom told you that you needed your important five-a-day? Yeah, she is already invested in the idea that complete nutrition is a necessary part of a healthy diet. This is going to be an easy sell, so you won't need to spend too much time discussing the finer points of whey protein health benefits.
Healthy cells rely on balanced and consistent protein synthesis, which is one of the essential processes that take place in the body every minute of every day. You won't have to get deep into the science of protein to convince your mom, however. She's a smart lady – she raised you, after all.
Dietary Supplement
Does your mom find it difficult to juggle work and look after the kids while eating a healthy diet? Whey protein is a great way to suppress hunger between meals. A quick protein shake can make all the difference for moms who are constantly on the move and simply don't have the time to ensure they get their daily recommended protein intake.
Most moms also love to experiment with recipes, so be sure to point out that whey protein can act as a healthier supplement in pancakes, brownies and other homemade snacks. You can find easily find suitable recipes online that will help your mom get the most from her 25-gram servings of whey protein.
Know more here -> Whey Protein As A Diet Aid
Energy Boost
Active moms are often short on energy, which is why whey protein is actually a gift that shows you care. If you value creating great memories with the woman who brought you into this world, why wouldn't you consider whey protein as a Mother's Day gift? Sure, it's a little self serving, but everyone is a winner at the end of the day.
Moms who rely on sugary or fatty snacks to make it through the day will appreciate the fact that they get more from whey protein – without having to unnecessarily increase sugar or fat intake. It is cheaper, more effective and less detrimental to health if your mom uses whey protein as an energy boost.
We think whey protein is a pretty great gift, regardless of the occasion. For your body and mind, it doesn't hurt to have a little to ensure that you have a healthy intake of amino acids each day. Contact Pin Up Girl today to find out more.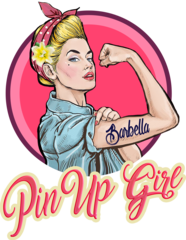 Pin Up Girl Protein For Women
We offer a premium quality Whey Isolated Protein powder for women to build muscle and lose fat.
About Pinup Girl protein