A Healthy Protein Shake Recipe: Post-Workout Protein Shake
You know that a high-quality protein supplement can help you lose weight, aid in recovery after a hard workout, or even provide your body with the protein and amino acids it needs after surgery or illness. How do you turn the powder into a quick and convenient package you can consume on even the busiest days, though?
While you can add protein powder to everything from pancake batter and your morning oatmeal to nutrient-packed smoothies, you won't always have time for elaborate supplement recipes. When you're on the go but still need to curb hunger and build lean muscle, a no-frills shake is the way to go.
Quick and Easy Protein Shakes
An effective protein shake is essentially made up of two components: a high-quality, nutritionally complete whey-based protein powder, and a liquid. Pinup Girl Protein is a great source of amino acids and protein your body needs for muscle synthesis, weight loss and general, overall health.
Water is the most common source for a few reasons. First and foremost, it's free of calories and carbs. This is of particular interest to women using protein supplements to aid in weight loss while curbing hunger. It adds nothing in terms of flavor and can result in shakes which are a bit thinner in consistency, which isn't typically much of an issue if you're using a high-quality protein with great flavors.
What if you prefer a thicker, creamier shake with more nutrients than pure water? Milk is a great choice for adding extra calcium and even more protein to your shake, but it does contain some carbs and isn't typically a good choice for women who are lactose intolerant.
Soy or almond milk aren't uncommon choices, though it's vital to carefully read labels. Some brands pack quite the punch when it comes to sugar and calories, which won't do your body many favors in terms of health and fitness.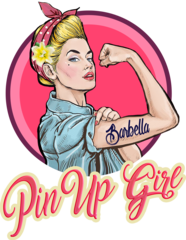 Pin Up Girl Protein For Women
We offer a premium quality Whey Isolated Protein powder for women to build muscle and lose fat.
About Pinup Girl protein